Looking for that perfect antidote to the sleek, streamlined, stark uniformity of modern decor?
Here it is (drumroll…): it's live edge wood!
You only need a little bit of it to add instant charm, warmth, and nature to your bordering-on-cold modern room. Live edge wood is a slab of wood in a near-natural state, with an irregular edge and pronounced grain. Typically made of salvaged trees, live edge wood complements every decor style – it softens modern and contemporary edges, enhances rustic design, warms up industrial furnishings, and adds an element of surprise to traditional decor.
You can put live edge wood on countertops, furniture, or even flooring to create a unique – but not too out-there – design in every room of the house. Any size, any thickness, subtle to showstopping, there's a place for it in every home!
Skeptical? We'll show you how easy it is to put it in play – you're (practically) guaranteed to love it by the end of this post. (Oh, and as a bonus – it's affordable, too!)
Add character to your kitchen and dining area with a live edge countertop, bar top, or table:
Add a touch of nature to a clean-edged bathroom:
Or spruce up (excuse the pun) any room in the house with a live edge table, shelf, bench, desk, or even door!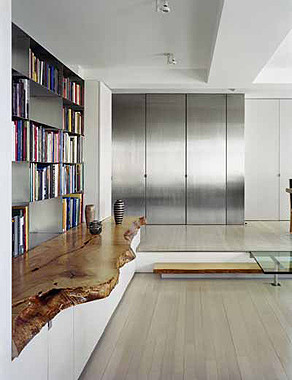 Convinced? We thought so.
Where would you put live edge wood?
Save