Remember the Jetsons? Who didn't dream of the day when everything would be automated and most of our daily chores would be taken care of by machines? We may not be there just yet, but the explosion of smart home technology has shown that we're well on our way.
This year's annual CES (International Consumer Electronics Show) was loaded with gadgets, apps, concepts and devices designed to make our lives simpler (eventually) with automated and smart homes. The goal, as bandied around excessively at CES 2015, is to create a so-called Internet of Things (IoT) in which everyday items – especially home systems – communicate with one another and with us to keep our homes running smoothly.
Included in the mind-blowing technological advances showcased at CES (Bluetooth sneakers! self-driving cars! wearable technology! a ridiculous amount of cell phone updates!) were new smart appliances and home systems with features we've only daydreamed about ("Hey, wouldn't it be great if we had self-cooking ovens/fridges that updated our shopping lists/sprinkler systems that know when it's going to rain? Nah, never gonna happen.).
This technology puts electronic faucets and TV mirrors to shame. Check out some of our favorite features (and there were many that didn't make it to this post, simply for lack of space!) for smart homes of the not-so-distant future (and even the present):
Appliances
Most of our daily duties use standard kitchen and laundry appliances: stove, refrigerator, oven, washing machine. Ever wish those appliances would work even harder? Now they do!
GE's ChillHub, unveiled at CES 2015 among other GE Profile smart appliances (water heater, washer and dryer, dishwasher, ovens), is an intelligent fridge that goes way beyond your standard icebox. It has built-in WiFi capabilities, eight USB ports, and its very own iOS app. Created by FirstBuild, a co-creation offshoot of GE, the ChillHub notifies users (via mobile device) of temperature changes, filter status, and open doors
The coolest (pun not intended) part? The ChillHub allows for seamless integration of user-designed add-ons, making it perfect for tech-savvy gadget lovers. Accessories will be designed online with 3D printing in mind, so that users can actually print their fridge parts (those without 3D printers can order their accessories assembled). Already available is the Milky Weigh, which sends notifications to users when their milk starts to run out.
Less intelligent but still pretty awesome is LG's SmartThinQ appliance suite (refrigerator, range, washer and dryer), which features intelligence far beyond what you'd expect from your standard appliances. The fridge's LCD screen tells you what's inside, what's going to expire, and what you need to buy to make that recipe you've been wanting to try; the oven heats up faster than any other and allows you to preheat it remotely; the washer and dryer let you download new cycles for different types of laundry and monitor your loads from miles away.
The hottest prototype at CES 2015: the Cooki robotic chef.
When given pre-portioned ingredient's, Cooki's robotic arm stirs, whips, and prepares your meal while you attend to more important things like checking (from your smartphone) when the laundry will be done.
With Miele's deluxe smart oven, you'll need to be a bit more hands-on – but not too much more. The massive 48″ range connects to your home's WiFi and features built-in recipe guidance that notifies you when it's time to add an ingredient. Customizable recipes allow you to create a unique meal every time with consideration of what you have in the house, your dietary restrictions and preferences, and the amount of time you have. It also has eight burners and two oven cavities with steam, broil and convection capabilities.
For $14,000, it had better cook everything perfectly.
The Lynx smart grill is voice-activated and WiFi-connected. It essentially takes a recipe and your doneness preferences and cooks it for you. Bring on the summer barbeques!
Even the washers and dryers that don't do all the work for you are getting smarter. LG's Twin Wash system allows you to do two independent loads at once without getting anywhere near a laundromat: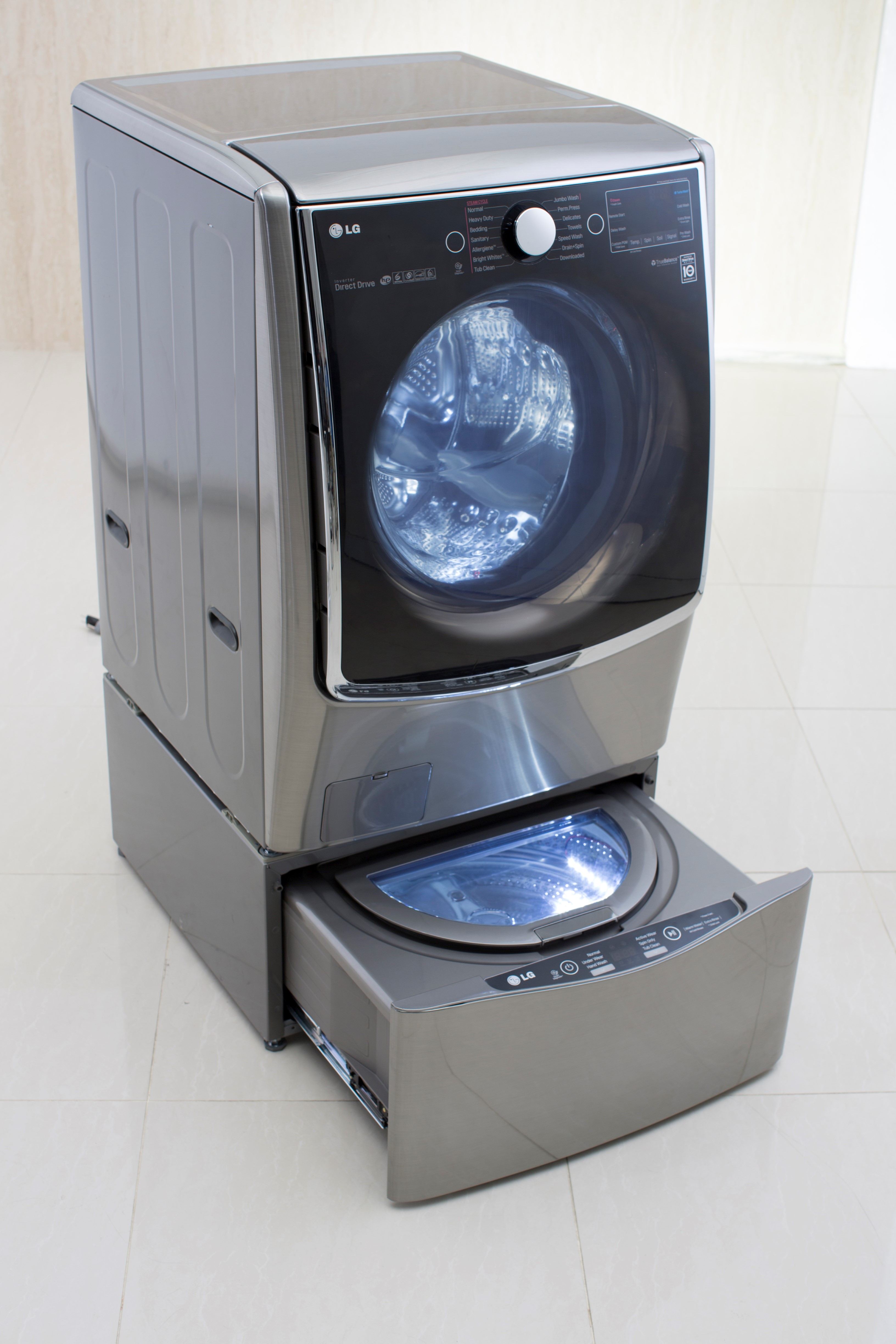 and Samsung's Activewash features an ingenious integrated laundry sink so that you can scrub and pretreat stains without getting detergent all over the place:
Whole home
The kitchen and laundry room are just a small part of futuristic homes. Whole-home smart systems allow us to communicate with virtually every part of the house, no matter where we may be.
Smoke detectors have been reinvented to keep us safer:
Nest and Hive have provided us with smart thermostats with remote (really, even from miles away) control capabilities and self-programming based on your preferences:
No central A/C? No problem. The Aros window air conditioner unit is pretty smart itself:
Take care of your pets and plants, too. The Petcube camera with WiFi connectivity acts as a nannycam for your pet to let you see what Fido's been up to while you're gone: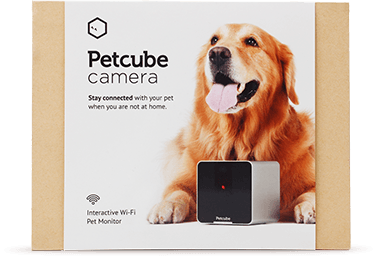 The Parrot Flower Power H2O lets you water your plants while you're away and assesses their needs:
And the Blossom sprinkler system syncs with weather reports – if it's going to rain, it won't water your grass!
Your keys and doorbell are smart now too. Kwikset's Kevo deadbolt opens with your smartphone and can be controlled remotely; Skybell lets you see, hear, and talk to the person at your door – even if you're not home.
Even your windows are getting smarter; smartglass switchable glass turns opaque for privacy at the touch of a button.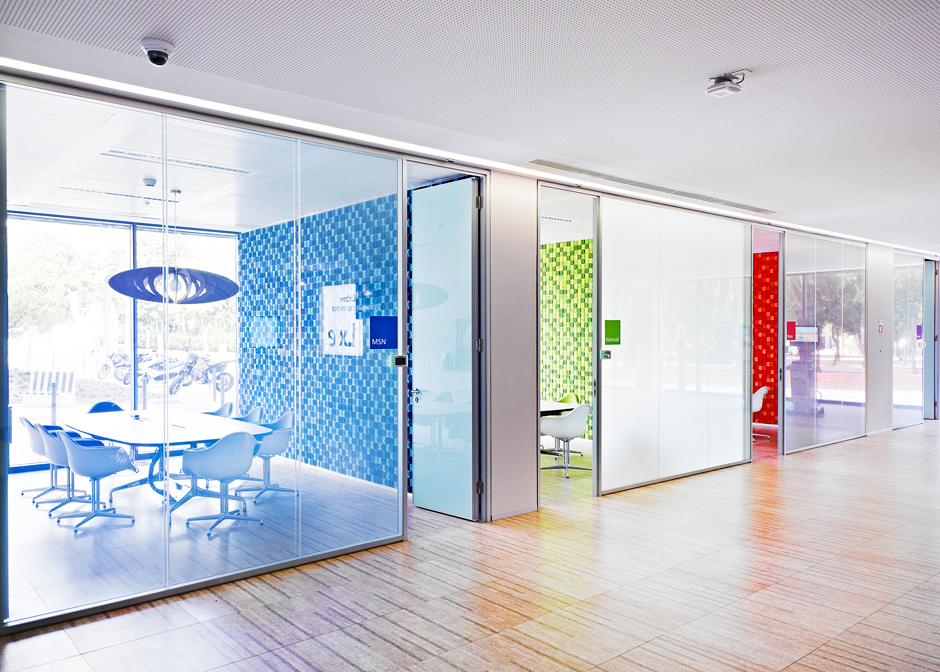 Of course, tech companies have all jumped on the bandwagon with smart home control platforms – Apple HomeKit (controllable with Siri!), Amazon Echo, LG HomeChat, Home Depot Wink, Staples Connect, Lowe's Iris and SmartThings, among many others, allow us to communicate with our homes in ways we never would have though possible.
Are you ready for the future?