Now, it may seem oxymoronic to use a bird cage as a symbol of freedom and flight. After all, caged birds are not free at all; they're confined to their unnatural habitat, a sight that may be depressing for many as it represents a loss of freedom.
However, an empty bird cage serves as a reminder of breaking free, of flying, of independence.
Bird cages make awesome decor – depending on the size, shape, and style, they can be funky, modern, vintage, romantic, and even useful. (The freedom imagery and symbolism are added bonuses!) By design, bird cages are light but distinctly beautiful, so they add stylish visual interest without adding weight to a room.
Try cage-inspired decor if you're not wild about (pun fully intended) the actual bird cage:
To get the full effect, though, you'll need some real cages (or images).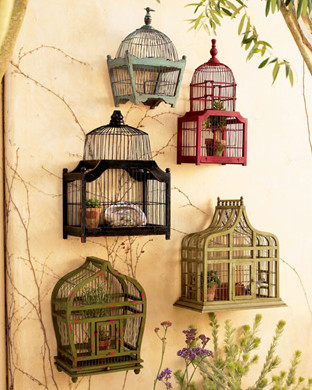 (And yes, you 
can
make your own bird cage chandelier!
Click here
for instructions.)
You can even complete the free-as-a-bird metaphor if you wish:
Changes the way you look at bird cages, doesn't it?
What symbolic pieces do you have in your home?