As every fashion-forward person knows, keeping up with the latest trends is important! It's fun to check out the newest (and often strangest) fashions as they come on the runway. Since it's easy and affordable enough to buy a new piece or two (or more…) per season or style change, you won't break the bank to stay in style (unless you're particular to pricey designer clothing and shoes), but decorating your home is an entirely different story.
Home decor trends are often influenced by fashion trends. While you want your digs to look current, you don't want to overspend on something that may date your house (or make you regret your decision every time you look at it). So to give you a little help, I've gone through the fashion pages of Glamour, Harper's Bazaar, and Cosmopolitan to get up-to-date on the newest crazes and picked out ways – big and small, permanent and temporary, budget-friendly and splurge-worthy – to apply them to your homes:
Animal print
The experts say it's still in! Animal prints are lots of fun and can spice up practically any room in the house – even the bathroom!
Too much? Accessorize with a rug, towels, throw, or accent pillow. Even your toilet brush can take a walk on the wild side!
(See the whole collection here.)
Emerald green
This one's sure to be a hot color in the upcoming years; Pantone has named emerald green their top color for 2013. Besides for showing up on all the runways, various shades of dramatic emerald is making appearances on walls, curtains, and home accessories everywhere.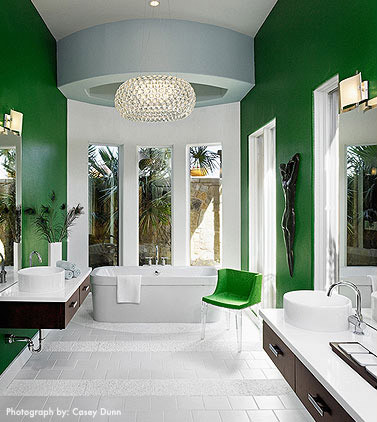 Classic patterns
Some things never really go out of style. Classic patterns, most notably houndstooth, are making a comeback in clothing and home furnishings: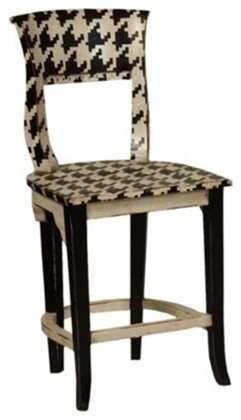 Leather
From trim to full outfits, leather is back in full force. It's edgy and modern, and available for your home!
If you're really daring (and you really love leather), you can even get a leather bathtub!
Velvet
Do velvet sofas make you think of dusty grandmas' houses? Try it on a settee, and entryway bench, or even an upholstered headboard.
Knits
When I see a chunky knit sweater, it makes me feel cozy all over. These adorable vases do the trick – and they're winter white too, so you can get in two trends in one! (Who says you can't wear white after Labor Day? Not today's fashionistas!)
What are you and your home wearing this fall?