What do you imagine when you think about medicine cabinets? Most likely it's a traditional wall-hung cabinet with a swing-out or multi-paneled door concealing a few adjustable shelves. Don't settle for the mundane, the typical, the average – discover the potential of your bathroom with the revolutionary Robern Uplift medicine cabinet.
You've never had a medicine cabinet like this one before. The Uplift is a true multitasker in every sense. Rather than swinging open (where it can hit you in the head when you bend over) or folding up (lines in your mirror are never attractive), the door lifts vertically to reveal its contents. (Don't worry about it slamming shut or sliding down while you're using it; its position-hold hardware allows you to leave it as far open as you want.) The Uplift feature also presents a practical, attractive, and space-saving advantage: a seamless mirror in 30″, 36″, and 48″ widths.
The Uplift can be surface-mounted, semi-recessed, or fully-recessed (with side and top/bottom kits for all-around mirroring on semi-recessed and surface mounts).
And that's just the outside! Once the door opens, the fun really starts. The interior is fully mirrored and lights up automatically when opened so that you can see yourself at all times.
Adjustable glass shelves allow for unrestricted views and may be adjusted in two-inch increments to fit all of your "stuff" comfortably.
The cabinet is equipped with a whopping six interior ETL-listed outlets – two on the top and four on the bottom – and a discreet cable-management system to keep your wires corralled neatly and safely.
For a truly all-inclusive package (yes, those features listed above are all standard on the Uplift), you may customize your Robern Uplift medicine cabinet with several optional features: defogger and night light, a compartmentalized organizer shelf, coordinating sconces or pendants in four finishes, a pullout magnifying mirror that fits snugly inside, a finishing kit for hanging two or more side-by-side, and/or even a TV mount.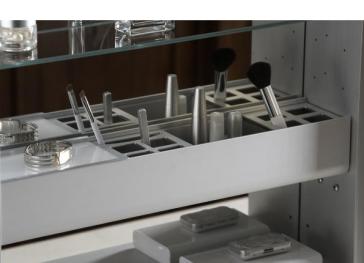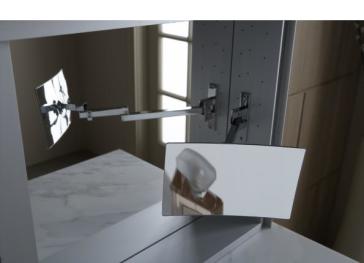 Ready to revolutionize your bathroom? Head over to Quality Bath and see everything Robern has to offer!