Long-awaited spring is finally peeking around the corner, and we're all itching to break out the spring colors. And not just the ubiquitous flower-pinks and grass-greens, but fresh, vivid colors that make us feel happy. Robin's egg blue is the typical and expected choice for spring, but this year's Pantone Spring colors feature stronger, bolder blues, including the vivid Scuba Blue. The vibrant, saturated aquamarine shade may seem to be better suited to summer – after all, it evokes visions of tropical vacations, endless skies and (what else?) exotic scuba diving – but this hue is the perfect antidote to bleak, gray winter skies.
Aquamarine, a lovely blue with slight green undertones, is an ideal accent color for every room. It's bright enough to be cheering and uplifting, yet cool enough to be soothing and tranquil. Like all bolder colors, it's best as an accent rather than a main color, and it's a fresh addition to virtually any color palette.
Here's how to use this sunny shade to brighten your home – and your spirits – this spring.
Aquamarine is an obvious choice in bathrooms:
But it perks up every other room throughout the house. Aquamarine is unexpectedly beautiful in kitchens and dining rooms: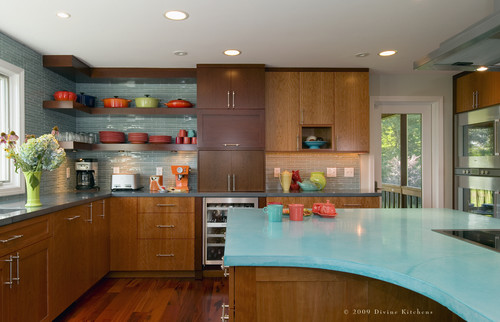 Somehow simultaneously tranquil and stimulating in the bedroom:
Chic and classy in living and common areas:
And perfectly suited for outdoor use:
This color also just happens to feature heavily on our brand-new website! Get a
sneak peek
at our newly designed, user-friendly site (don't worry, you can still switch back to the old version at any time) and let us know what you think.