Budding MasterChef, amateur cook, professional chef: whatever your level of kitchen expertise, you're sure to have a knife or two in your kitchen. Sure, you can put them into a boring, standard knife block, but what's the fun in that? (Plus, fitting knives into those individual slots… think about their need to be free and unrestrained!) With so many options for kitchen knife storage on the market, you'll never be able to bring yourself to put those knives into a standard knife block.
Try a custom kitchen knife storage drawer or cabinet to keep your knives out of sight and easy access (perfect for those with small children – add a drawer lock and minimize the temptation):
This clever pull-down design drops down from under your cabinet when you want it, displays knives cleanly, and folds back up when not in use:
You can also build a kitchen knife storage slot right into your countertop:
A popular option for keeping your knives close at hand yet out of reach is a wall-mounted magnetic knife holder. They're available in loads of shapes, sizes, and materials to complement any kitchen and meet any cook's needs.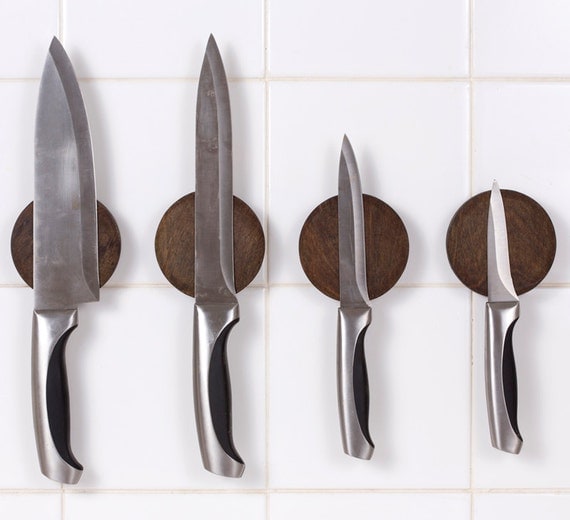 Limited space? The MagMates knife pods allow you to hang two knives in a small spot; if you need more, put up more pods!
Of course, you can go with the traditional knife block… with a twist.
The KnifeDock has powerful magnets hidden inside its bamboo surface. No slots = no limit to the types of knives it holds, no dulling of the blades, and no bacteria hiding in slots.
This versatile block looks great and holds up to 15 knives of varying sizes. Its rubberized base keeps it from sliding around, horizontal slots prevent blade dulling, and it includes space for kitchen shears and sharpening tools.
This sleek magnetized "saddle" envelopes a wooden cutting board. Because, after all, you usually use the two together!
Magnetized wooden columns with a sturdy slate base for stability? Yes, please.
Or stick those knives into a container full of bamboo skewers or polypropylene rods (washable to prevent bacteria build-up) for a slim, convenient option.
Tell us how you store your kitchen knives!