When it comes to seasonal decorating, autumn gets the short end of the stick. It's overpowered by Halloween decorations and, all too soon, winter decorations (ack!). But with these DIY home decor ideas, fall decorating will become a task you look forward to all year.
Take advantage of nature's bounty at this time of year – brilliant leaves, crisp fall produce, branches, vivid colors – to create gorgeous DIY home decor – nobody will guess that you made it yourself!
Check out these projects to get started. They're beginner-friendly, easy, inexpensive, and beautiful – plus, no pumpkin-carving necessary.
Autumn tablescape
Infuse your table – entry, side, or dining – with some fall charm. Try setting it with a monochromatic scheme:
Clear glasses and vases of varying heights + water + mini yellow pumpkins + sunflowers = fall cheer at its best (and super-simple).
Another variation:
Match your flowers to your candles and you're good to go.
Alternatively, prop white gourds on pedestal bases – use sawed-off furniture legs, jars, boxes, and your imagination.
If you're setting a formal table, give each guest a seating card in the spirit of fall.
Twist one end a 6″ length of 18-gauge wire around a pen twice, drill a hole in a walnut (level the bottoms if necessary), and insert the other end of the wire into the hole. Slide personalized cards into each wire holder.
Like it simpler? Just pry open that walnut a bit and stick the name tag directly into it.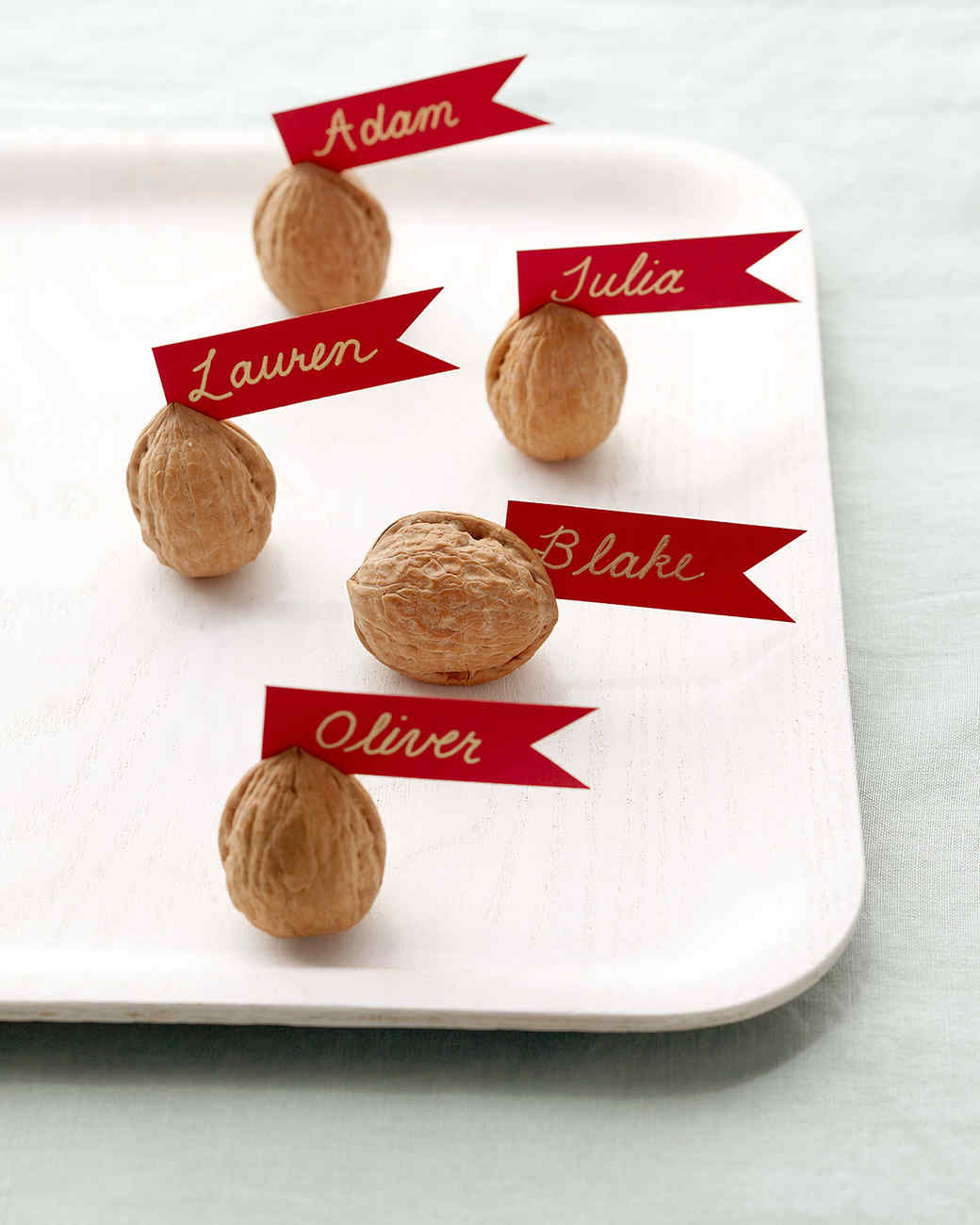 Create a runner down the center of your table with twigs and ribbon.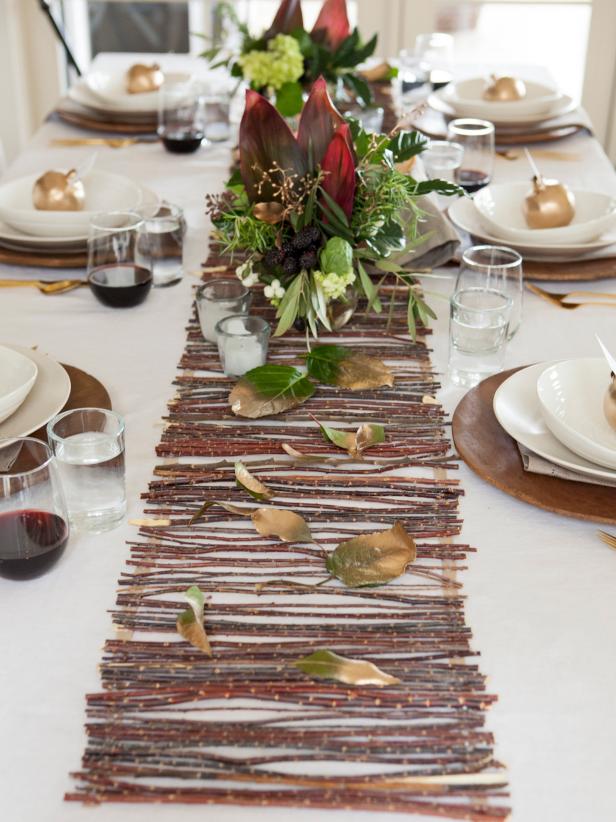 Just cut those twigs to the desired size, cut two pieces of ribbon to span the length of your table, and use a glue gun (or any sturdy craft glue) to secure each end of each twig to a ribbon. Best of all, it rolls up easily for storage so you can use it again!
Candle holders
Almost nothing says fall like a flickering flame. Set up candles in fall-themed votive holders for a warm, welcoming glow throughout your home. (Always supervise a flame while it's burning.)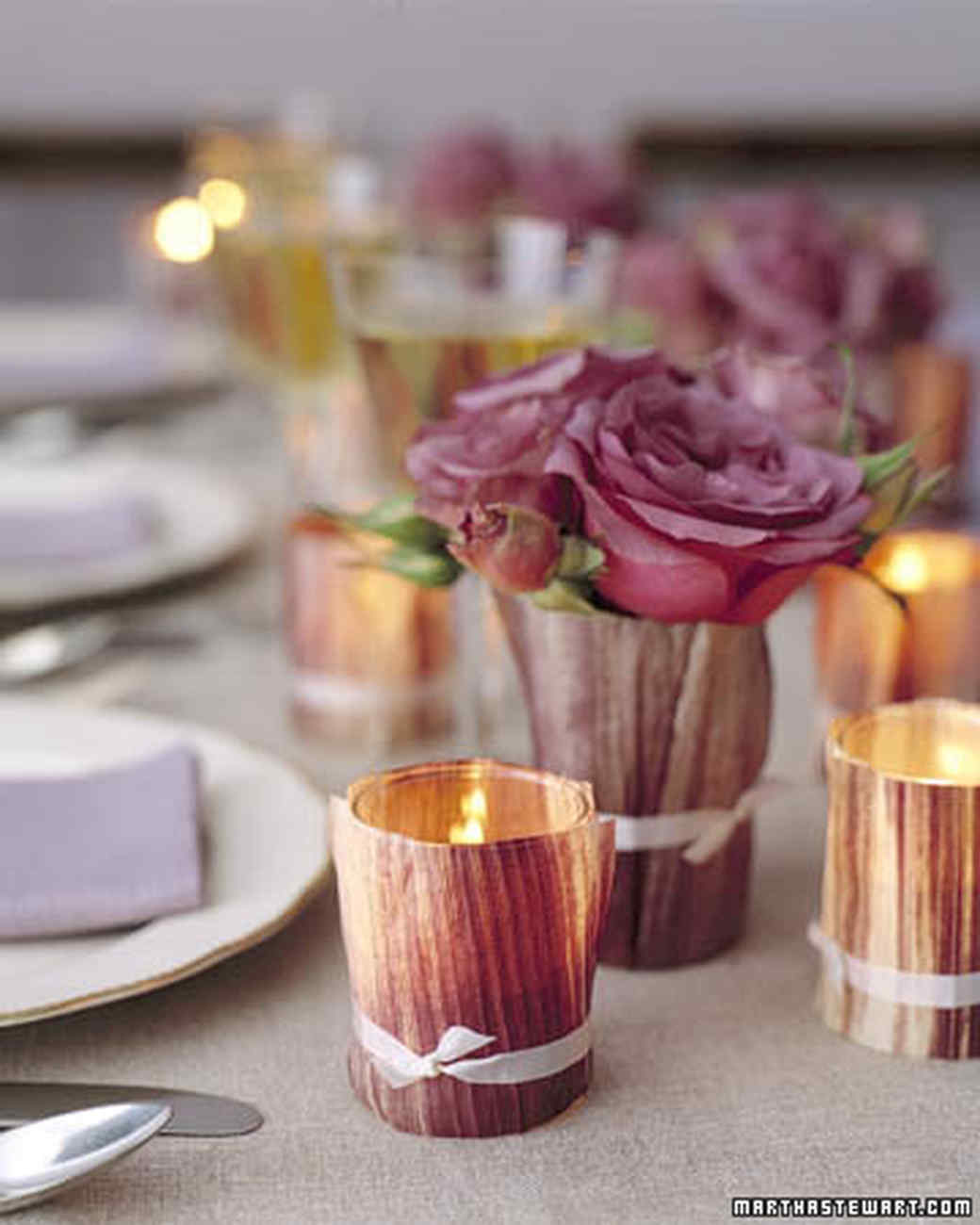 Use an X-Acto knife to cut the widest part of dried corn husks to fit your votive holders. Wrap the bottom of the votive holder in double-sided tape and apply 2-3 corn husk pieces to the tape, overlapping to hide the glass. Tie with a ribbon for a neat finishing touch.
Clean and dry mason jars thoroughly, then apply a thin coat of Mod Podge (widely available at craft stores). When the Mod Podge feels sticky, place a leaf (real or fake) on the jar, smooth the edges, and apply more Mod Podge (painting it from the inside section to the edges) until the leaf sticks to the jar. Continue layering leaves and Mod Podge until you reach your desired effect.
A similar project is a leaf bowl. Inflate a balloon, layer faux leaves with Mod Podge onto half of the balloon to create a bowl shape, allow to dry, and pop the balloon.
Decorative pumpkins
These gourds don't have to be scary, carved, or otherwise Halloween-themed. Pumpkins are a fall staple; make yours trendy rather than corny!
For an easy and elegant display, paint pumpkins of any size in stylish patterns:
Paint the base color, allow to dry, apply painter's tape in a chevron pattern, paint with a contrasting color, and remove tape once it's dry. For an even easier application, use spray paint! This works on real and artificial pumpkins.
It couldn't be easier to make this ombre pumpkin (unless you bought one). Paint or spray-paint the lightest color for the base (white in this case), then paint the bottom and middle varying shades of the same color or different hues. Use a damp cotton ball to gently bleed the colors together and allow to dry.
Create this funky design with the kids! Take advantage of the pumpkin's natural bumps. Remove the pumpkin stem and place the pumpkin on a large piece of newspaper. Pour small amounts of acrylic paint in alternating colors into the well on top (where the stem used to be). Keep applying more colors, allowing them to drip down the sides, until the pumpkin is fully coated. Allow to dry and glue the stem back on, if desired.
Make your pumpkin shine with metallic paint or accents:
Simply spray the pumpkin (or, as shown above, fall leaves) with metallic paint. If you'll be using leaves, allow them to dry before gluing to the pumpkin.
Use stencils or painter's tape to create unique designs with paint on your pumpkin.
Wreaths
A door wreath is a common sight in the fall, but your fall wreath doesn't have to be the same old dried-leaves-and-berries combo. Try one of these out-of-the-box wreath ideas:
Insert chrysanthemum stems into a foam floral wreath, then hang with a cozy scarf.
Decorate a discarded rake head with your favorite fall flowers.
Who said wreaths have to be round? Hot-glue seasonal nuts to a wooden frame and hang it with a ribbon.
Tell us how you decorate your home for fall; share your favorite DIY home decor projects!