The color bronze may be associated with several different ideas, depending on your lifestyle and thought processes. Try a little mental exercise: what's the first thing you think when you hear (or read) bronze? Chances are you'll think of bronze medals (for the sports enthusiast), bronzer (for the makeup artist or, alternatively, the pale one), bronzed skin (for the vacation hopeful), or bronzed shoes (for those of us from a different era). Another alternative: if you're currently in the home decorating mindset, you may automatically think oil-rubbed bronze, a finish that is not the color of this month.
This month's Color is that of the metal bronze, a coppery alloy, which is a rich metallic brown (not the more black shade of the trendy oil-rubbed variety). It's a strong earthy neutral, perfect for the fall and for the return of earth tones (a warmer alternative or complement to the cooler grays that are losing popularity).
Bronze can be shiny or weathered or patinated, painted or tiled or papered – it's beautiful in every variation and in every room. It's a warm, welcoming, lively metal that adds a touch of elegance and luxury to the home.
Put bronze in the kitchen – and not just on the hardware – for a homey yet sophisticated effect:
Glam up a bathroom with the vibrant color:
Add interest and warmth to a living room with a bronze ceiling, fireplace, or even a simple paint job: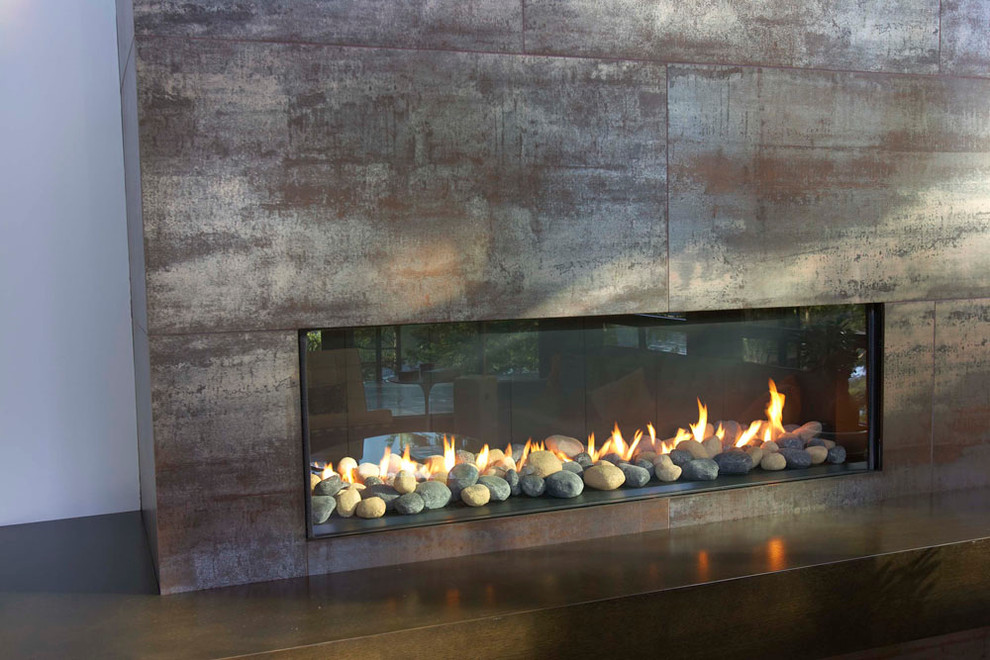 Polish the dining room with strategically-placed touches of bronze:
Add opulence to your bedroom:
Or use it to create a striking exterior or entry point:
However you use this versatile metal, it's sure to make a statement.