As I've mentioned, orange is one of my all-time favorite colors. That's why fall decorating is so much fun! With Halloween right around the corner and the leaves changing colors, orange is a hot color and it's cropping up all over the place. What's great about orange is that it's not just a seasonal color; if you want to use it in your home, it won't look strictly "summery" or "fall-ish," making it a versatile decorating color. Plus, it's one of those colors that instantly cheers you up!
Here are some truly gorgeous rooms all around the house that have inspired me to be a little more daring with my colors (though I didn't need much inspiration to use orange anyway!). I hope you like them as much as I do!
Bedroom
Because orange is a color designed to stimulate, it's best used in a darker shade or smaller quantities in a bedroom. Try an accent wall, muted shades, and/or accessories to wake up the bedroom without making it hard to relax in.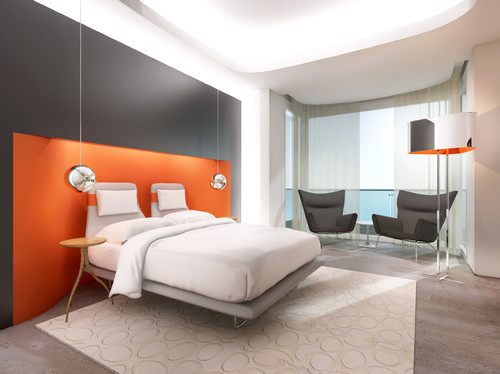 Bathroom
A bathroom is the perfect place for a pop of lively orange.
I love the crisp, clean look of white and orange, and pink just makes it perfect.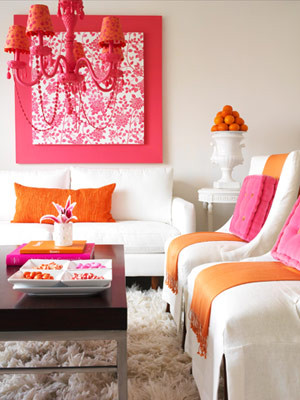 Orange is said to be an appetite stimulant, so while you don't want too much orange in the kitchen (just think of the pounds you'd pile on!), it's a perfect accent color.
Want your home to look warm and welcoming without looking like Halloween all year round? Add a pop of color by painting your front door orange! It works on all houses, from the contemporary to the traditional to the ultra-modern.
Tell us what you think about orange! Is it one of your favorites? So-so? Can't stand it? Vote below and show us how you've used orange in your home!