Wouldn't you love a hideout in your home? A private retreat? A secluded spot?
High on the list of "must-haves" in a fantasy home is a secret room. No wonder – hidden spaces have a mysterious and exciting aura about them. Which kid doesn't dream of having his or her own concealed place?
What most people don't know is that a secret room is surprisingly attainable. If your home has a walk-up attic, there's a good chance you can turn it into something special.
Because most attics are low-ceilinged, they can feel tight and uncomfortable, or, depending on your perception, cozy and comfy. Attic rooms are ideal for kids – their smaller stature makes low ceilings an asset rather than a downside.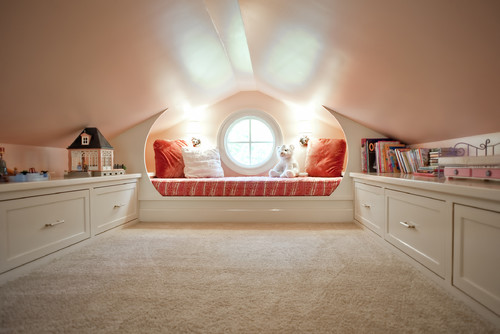 Colorful and snug, and often too small for grown-ups to hang around in – they're perfect for little ones. An attic can also be a great quiet spot for homework and reading (bookworms unite!).
When the kids start growing up, a higher-ceilinged attic can make an excellent game room, media room, general "chill-out" room, or even a home gym.
Need an extra bedroom?
If you have an attic, you may just be able to get that secret room you've always dreamed of.