What better color for the year's final Color of the Month than the Color of the Year for next year? That's right, this month's color is Greenery, Pantone's Color of the Year 2017. This vibrant, fresh, yet still natural yellow-green hue is just what you need to stave off the beginnings of the winter blues.
Pantone, of course, describes their choice best:
A refreshing and revitalizing shade, Greenery is symbolic of new beginnings.
Greenery is a fresh and zesty yellow-green shade that evokes the first days of spring when nature's greens revive, restore and renew. Illustrative of flourishing foliage and the lushness of the great outdoors, the fortifying attributes of Greenery signals consumers to take a deep breath, oxygenate and reinvigorate.
Greenery is nature's neutral. The more submerged people are in modern life, the greater their innate craving to immerse themselves in the physical beauty and inherent unity of the natural world. This shift is reflected by the proliferation of all things expressive of Greenery in daily lives through urban planning, architecture, lifestyle and design choices globally. A constant on the periphery, Greenery is now being pulled to the forefront – it is an omnipresent hue around the world.
A life-affirming shade, Greenery is also emblematic of the pursuit of personal passions and vitality.
Now, in simple English: Greenery is a refreshing, zesty color that will make you feel spring even in the dead of winter. Plus, it's a great way to breathe some nature back into your sterile white-and-gray modern home.
Because of its inherent natural-ness (no, that's not a word, but it works), Greenery coordinates with virtually every shade. Pair it with neutrals, brights, wood tones, pastels, metallics, and deep colors (just maybe not all at once). Get ready to paint the town green!
Check out Greenery in different rooms throughout the house.
It adds zing to the kitchen and dining room:
Kitchen by Kim Duffin for Sublime Architectural Interiors
Get that perfect balance of vibrant and soothing in the bedroom and living room: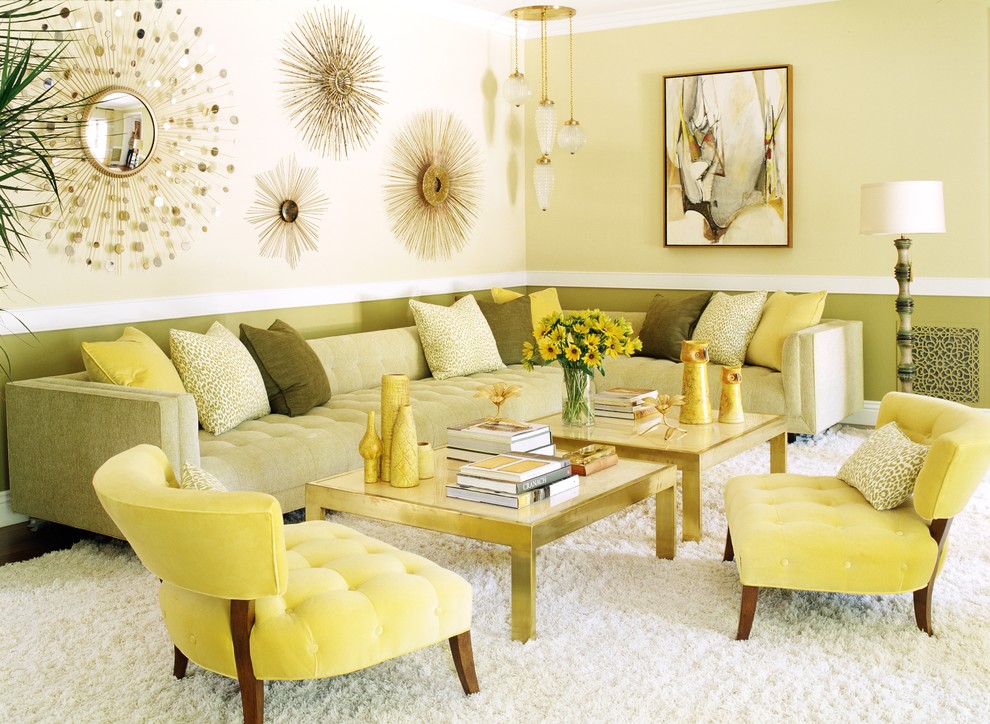 (Love that fuzzy green chair!)
Brighten up the bathroom to get that pep in your step at the start of the day:
Or make your home stand out – and blend in – with Greenery on the exterior:
Will you – and your home – be wearing Greenery this year?