Hold on to those stones; you won't want to throw anything in these bathrooms. Using glass is one of the oldest and most effective tricks to make your bathroom look larger, lighter, and more open. Glass bathrooms (well, not all glass, obviously) are stylishly classic with a calming zen feel. Whatever the actual size of the bathroom and the number of windows in it, glass gives an illusion of more space and light.
Glass is perfect for showcasing exotic materials or unusual features in the bathroom by eliminating distracting shapes and potential color clashes:
Practically everything in the bathroom (except the toilet – don't even think about that) can be made of glass for a light, open and airy appearance. Glass shower doors and enclosures are especially popular; choose a frosted or patterned pane for privacy:
A transparent sink allows a statement faucet or counter to "do the talking" with unassuming beauty:
But a clear faucet can speak for itself, too!
For the more daring decorators (and perhaps Windex shareholders), a glass bathtub both stands out and blends in for a strikingly gorgeous bathroom.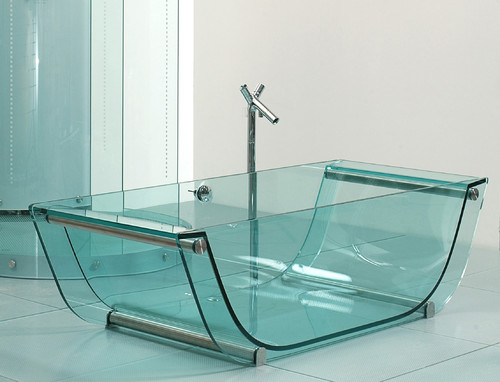 Although open-concept bedrooms and bathrooms are all the rage, many people – understandably – don't like having their bathroom literally in their bedrooms. To get all the coolness without the chill (and wet floors), enclose your en-suite with glass. You'll get the look and feel of open-concept without any of the downsides!
And if you just so happen to have an empty elevator shaft somewhere in your home, you can always put in a bathroom with a transparent floor like this Mexican hotel: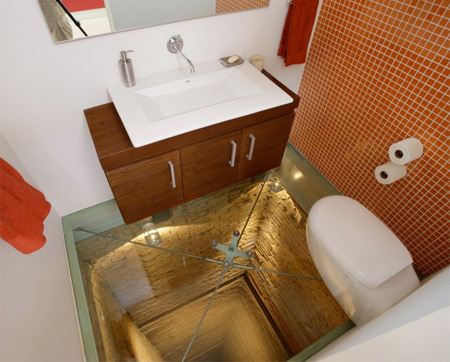 <shudder> No, thanks, I'll just wait until I get home.