If you're redecorating a bathroom, the toilet can seem like the easiest fixture to pick. You have hundreds of types, shapes, and sizes of bathtubs, sinks, faucets, vanities, mirrors, and even shower heads, not to mention the tiles and paint colors! The toilet is often overlooked – though it's really the whole point of the bathroom – until it's time to actually pick the toilet. Then you realize just how mistaken you've been! Choosing the right toilet is crucial in any bathroom, regardless of the size and layout of the room, and can be a daunting task. Don't worry – we at Quality Bath are here to walk you through it. Just read on for a helpful toilet-picking guide!
Toilets are divided into two main categories: wall-hung toilets and floor-mounted toilets. The difference is pretty straightforward: wall-hung toilets are mounted on the wall, with the tank hidden inside the wall, and floor-mounted toilets stand on the floor. Why buy one over the other?
Wall-hung toilets
A wall-hung toilet is more complicated to install than a floor-mounted toilet but boasts many benefits. The toilet's slim tank is mounted on a strong metal frame, which is connected to wall studs. The wall is then constructed around the toilet's parts, leaving the bowl – which does not touch the floor – protruding from the wall.
Why should I choose a wall-hung toilet?
Contrary to popular belief, wall-hung toilets are not difficult to maintain. If there is a problem with the toilet, you don't need to wreck the whole wall to reach the tank; an actuator (the panel that controls the toilet) opens to allow access when the toilet needs a repair.
Wall-hung toilets are easy to clean due to their one-piece design and the fact that they don't touch the floor. Their minimalist look is popular in modern bathrooms and is often recommended for use in small bathrooms; they don't take up as much space as floor-mounted toilets and the negative space below them can make any bathroom seem more open while providing extra space (when necessary).
Why not?
Unless one does not like the look of a wall-hung toilet or is not willing to undertake a more complex installation, this type of toilet is an excellent for virtually any bathroom. A word of caution: don't mount a toilet to an external wall in a cold climate – it can result in frozen pipes and a huge hassle.
My favorite wall mounts:
Floor-mounted toilets
The floor-mounted toilet is what most of us picture when we think of a toilet. The standard tank-and-bowl combination is an old standby and is available in various shapes, sizes, and configurations.
Why should I buy a floor-mounted toilet?
Floor-mounted toilets are generally (but not always) found in more traditional bathrooms. Of course, plenty of modern bathrooms have floor-mounted toilets, like this one: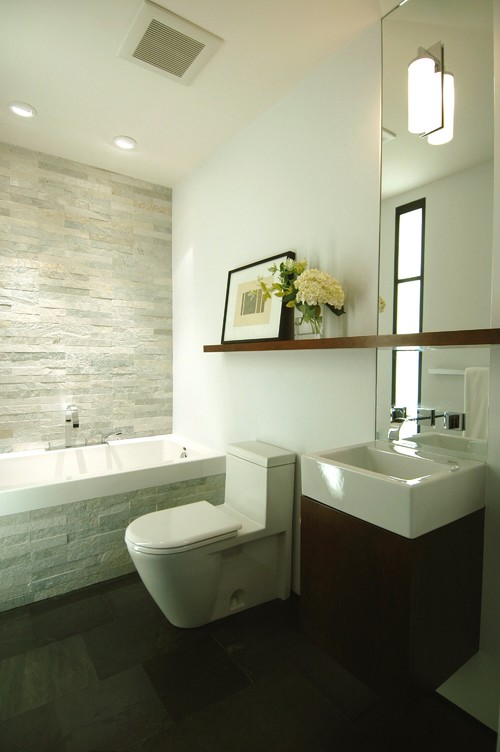 Toilet type is almost always chosen based on personal preference. In some cases, like wall structure or an inability to install certain types of toilets, one doesn't have a choice. Within floor-mounted toilets, fortunately, there are options galore. One-piece toilets, like the one pictured above, are seamless for easy cleaning and a sleeker appearance. Two-piece toilets, in which the tank and bowl are separate pieces, are more cost-effective than their one-piece counterparts.
My favorite floor mounts:
I like the slightly unusual shape of this one:
This toilet by Toto proves that toilets can be decorative as well as functional (different designs available here):
Not sure?
Do you love the look of wall-mounted toilets without the extra expense or installation? The Geberit Monolith covers the tank with a sleek panel (in a choice of colors) for a smooth, sleek look regardless of toilet type and brand.
Interestingly, tankless toilets are becoming more popular in homes today. Instead of the standard tank-and-bowl design, tankless toilets use higher water pressure to flush waste without the need for extra stored water from a tank. Though tankless toilets are generally found in industrial settings, they are now able to be used in residential homes, sometimes with the help of a pump to power the flush in the case of inadequate water pressure.
Features to look for
Whatever type of toilet you choose, you'll have myriad options within your choice. Many toilets are equipped with a standard or optional soft-close seat, which means that the lid will not slam down but rather close slowly and gently when pushed. Soft-close is a feature I'd personally go with on any toilet – no noisy lid closings!
Some toilets, like those in the Duravit SensoWash line, include a built-in bidet/cleaning system for a bit of added luxury. These toilets are available in wall-hung, one-piece, and two-piece configurations.
If you'd like to install a toilet in a complicated location such as below a sewer line, an upflush toilet uses a macerator to pulverize waste and pump it through the system. To learn more about upflush toilets such as the Saniflo system, click here for a detailed explanation.
Good luck with your toilet-buying experience! Let us know what kind of toilet you have and what you like or don't like about it so that you can help others make the right decision.