The kids are in school, you're happily adapting to the new schedule and kid-free time, when suddenly you're hit with the plague of artwork. There's stickily finger-painted blobs, stick-figure family portraits, crudely crayoned houses, and the dreaded mountain (or two) of glitter coming out of your preschooler's backpack… and that's just on the first day.
And your child throws a record-breaking tantrum if you dare throw out one single piece of construction paper.
How do you manage the artwork overload? Stuff it all into a drawer? Dump it into a box? Cover your fridge with it? Toss it when your kid's not looking?
Fortunately, there are now more creative ways than ever to corral the chaos and tame the project whirlwind. Check these out – you (and your kid) will thank us!
Tuck them into a display case:
Frame them – in matching or assorted frames, or even decals!
Place them atop narrow ledges:
String them up – use twine and clothespins or clips on a rod:
For more special pieces, create a photo montage, poster, or photo book: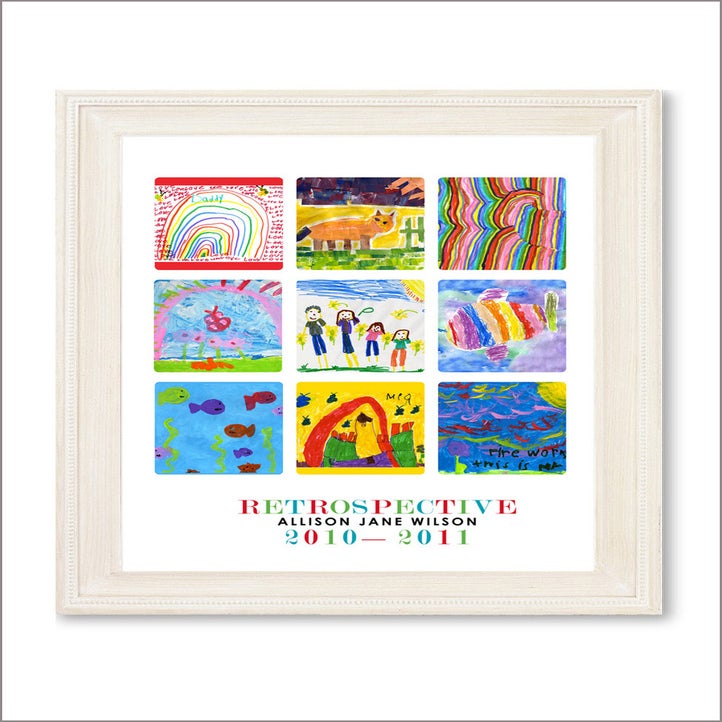 Snap a photo of each and upload to a digital frame:
Designate a space for each kid – a bulletin board, frame, case, or even a clipboard – and when it gets full, time to purge!
Turn it into more sophisticated art – use fingerpainted masterpieces as a background for cutouts (click the image below for a tutorial):
Get creative with the hanging method – try pants hangers! – for added and unexpected whimsy:
And if all else fails… send Grandma a care package.